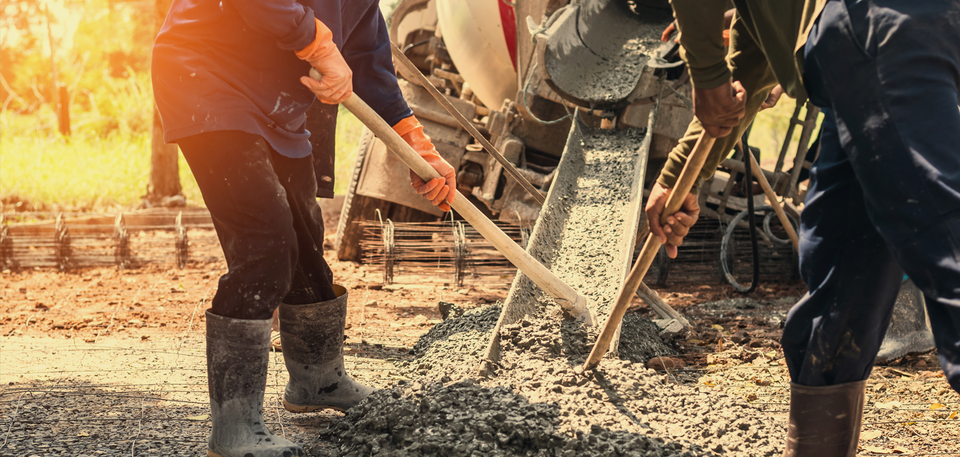 Placing & Finishing
Now it's time for placing and finishing the concrete driveway. Ready-mixed concrete should be delivered and discharged as quickly as possible. 1 to 1½ hours is usually a reasonable time frame. The following is the sequence for placing and finishing the new driveway.

Spray or brush all forms with form oil, and moisten the subgrade with water. Do not over water. There should be no puddles or standing water on the subgrade before placing the concrete. The concrete should be placed as near as possible to its finished position…either chuted directly or into wheelbarrows and wheeled to its final location. Use of shovels is recommended to ensure complete filling along the sides of the forms.

Strike off the concrete with a straight piece of lumber to smooth the surface and bring the slab to its proper elevation. Check for any low spots. Another pass with the piece of lumber provides a uniform surface for the following finishing operations. Immediately after strike off, a bull float is worked back and forth across the surface to remove any irregularities. Don't overwork, or the surface may be weakened. At this point, edges can be tooled into the concrete.

Surface bleed water must evaporate before proceeding with the final finishing. Properly specified concrete should allow finishing operations to begin almost immediately. A concrete broom is used for the final finish. Before brooming, the surface should be stiff enough to retain marks or grooves left by the bristles of the broom. A trowel finish is not recommended because it could leave the surface slippery and unsafe. The rougher broom finish improves traction. Snap chalk lines to indicate where joints go.
Concrete Slabs
Homeowners take great pride in the exterior of their home. The concrete driveway has become an essential part of a landscaping plan that imparts an inviting image. Concrete's wide variety of texture, color, or patterns has elevated the driveway to the status of a landscape design element…meeting today's homeowner's exacting demands.

Not only is concrete functional, it lends itself to a wide variety of design options…which can make a dramatic difference in home landscaping plans, as well as enhance property values. In addition to the traditional look, concrete can have the decorative appearance, feel, and color of brick, tile, slate, or stone. Exposed aggregate is another popular finish. Also, many other design choices are available. All of these choices complement a variety of exterior treatments of the house.

From the street to the garage, a personally designed concrete driveway not only adds visual satisfaction…but also adds long-lasting quality and value to your home as well.
Are you looking for a professional concrete contractor or a reliable concrete patio specialist for your residential or commercial needs?
A-Z Roofing & Contracting has years of experience, offering a comprehensive array of concrete patio options in any shape or size. We will pour a new patio and can replace or repair a current one. We have poured many types of concrete patios. We've done work for homeowners, community associations and property management companies! We also offer the following concrete services:
Foundations: A concrete foundation is under enormous pressure from the earth and hydrostatic head water pressure. Your waterproofing material must protect any cracks in your concrete foundation. When it comes to protecting a concrete foundation you only have one chance to build a concrete foundation right the first time.
Driveways: Concrete is very durable and will last a very long time! Concrete can have a 30-year-plus life expectancy. A decorative concrete driveway will add value to your home or business and won't lose its color or texture.
Decorative: Color concrete with our integral color, shake-on color hardener, or concrete stain systems. Transform standard concrete into an elegant natural stone, slate, brick or hardwood appearance with our stamping tools. From preparation to sealing we offer one place to obtain all of the compatible products and tools necessary to create nearly any desired vision.
Walkways: Concrete is a very popular material for walkways because of its versatility. Concrete can be colored and textured to mimic natural stone, tile, brick and more. A concrete walkway can be personalized to suit your home and your tastes. A-Z Roofing & Contracting understands that decorative concrete walkways are more than just a way to get from one point to another, rather they are a chance for artistic expression.
 
Planning
The quality of the completed concrete driveway always begins with good planning. Spending time at this stage is always a wise decision that can help to eliminate possible problems later on. One of the first things to consider is size.

The suggested width for a single-car driveway is 8 to 9 feet. For double width, plan to use 15 to 18 feet. If the distance from the street to a two or more car garage is long enough, the initial entry approach can be of a single-car width and then widened near the garage to accommodate all car stalls. If space is available, extra parking or a turn-around area can be included. Also, the planning stage is the time to consider adding that concrete patio or porch addition.

As for thickness, non-reinforced pavement 4 inches thick is standard for passenger car driveways. For heavier vehicles, a thickness of 5 inches is recommended. To eliminate standing water, the driveway should be sloped towards the street a minimum of 1%, or 1/8 inch per foot for proper drainage.
Many Design Options
Today's concrete can be formed into practically any shape, texture, pattern, or color. It's a way of adding a new dimension of quality and elegance to your home, at a reasonable cost.

Pattern stamping is an exotic and colorful way to enhance ordinary concrete paving. Essentially, the driveway is cast-in-place concrete which has been colored and imprinted with a pattern designed to look like brick, tile, cobblestone, or other various patterns. Textured finishes include bromide, swirl, or exposed aggregate.
Site Preparation
When the basic driveway design has been decided, the next step is site preparation. As an example, let's assume that an existing asphalt driveway is being replaced with a traditional, broom-textured concrete driveway. In brief, this is how a typical site preparation works.

The existing thin layer of asphalt is easily removed with a fork-lift truck (or by any method) and carted away. The existing gravel base is reusable…but since the new concrete driveway will be thicker, some of the gravel must be removed to maintain proper elevation.

The gravel base is compacted with a vibratory plate compactor. For a new driveway, a gravel subbase is not needed, but the subgrade must be compacted in a similar manner.

Lumber side forms should be placed and securely nailed to stakes in the ground. These stakes should be no more than 4 feet apart and should support each joint in the forming lumber. Measure for elevation and double check the base to ensure uniform slab thickness.

Match the new driveway level with the existing garage slab and sidewalk. An isolation joint is needed where the drive is to meet these existing pavements. Typically ¼" to ½" thick pre-molded joint material is used to make this joint.
Ordering Quality Concrete
Ready-mixed concrete for driveways is normally specified in accordance with American Standards for Testing and Materials specification ASTM C-94. By following the correct specifications and construction methods, it will help avoid problems such as random cracking. In brief:
Compressive strength - 4000 psi at 28 days is an adequate strength for most climates
Air content - designate air content with a range of 5% to 7% in all climates. In addition to improving the long-term durability of the concrete, air content also improves the workability, without the need for adding water.
Slump - be sure to designate slump. For driveway paving, specify 4-inch slump. Slump greater than 5 inches should definitely be avoided.
Aggregates - designate the size of the coarse aggregate. Generally, ¾ or 1 inch is normally used. For a slightly higher fee, the chert-reduced aggregate can be ordered to help prevent pop-outs.
 
For milder climates, lower strengths and air contents may be appropriate. Consult your ready-mixed concrete producer for appropriate mixes in your area.
Curing
Curing is one of the most important and also the most often neglected phase of good concrete construction. Poorly cured concrete is more likely to crack and will not be as durable.

Curing should last for a least 3 days, and as long as 7 days, if practical. There are several methods of curing, including plastic sheets to cover the concrete, or continuous sprinkling, or applying a special curing compound. Curing should begin as soon as possible after the finishing operations. In areas experiencing colder temperatures, curing procedures may need to be adjusted.

Jointing

Joints in concrete pavements control the location and spread of cracks. They can be hand-tooled or saw cut, and should be made to a depth of no less than 1 inch for a four-inch-thick slab. Joints should be spaced no more than 10 feet apart for a 4-inch slab. Driveways that are wider, 12 feet or more, also require a joint down the center. Panels should be as square as possible, but in no case, should the long side be more than 1½ times longer than the shorter side. Jointing should begin as soon as possible after the finishing operations. If jointing is to be done with a hand groover, proceed when the concrete sustains foot pressure with only a ¼ inch indentation. If sawed, begin within 24 hours.

 
Aftercare
Two of the great advantages of using concrete is its durability and ease of care. We recommend applying a high-quality sealer on all exterior concrete exposed to freeze/thaw cycles. The sealer helps protect concrete from two things: absorbing moisture and being damaged from numerous
freeze/thaw cycles.
While there are many brands of curing compounds, sealers and penetrating sealers, here are two examples: 
There are liquid, acrylic-based copolymers. They are transparent and act as a film over the surface. This type of product has been on the market for years and is widely used due to the value for the money.
Penetrating sealers are clear, silane solutions that penetrate deeply and chemically react with cementitious surfaces. They offer the best protection from moisture penetration.
There are many different types of sealers and can be applied by brush, roller or by using a low-pressure airless sprayer. The application should be made per the manufacturer's instructions.
 
By following these installation guidelines and combining them with good workmanship, you'll have a concrete driveway that will make a lasting impression for many years.
The Bottom Line is Quality
When all is said and done, the quality of a completed concrete driveway is dependent upon the workmanship of the paving contractor plus the quality of the concrete used in the project. Concrete driveways are constructed using ready-mixed concrete, high-quality aggregates, and water.

Because here at A-Z Roofing & Contracting, LLC, we specialize in exterior home improvements, concrete projects are an essential part of our business. Thus, we provide a full range of concrete services to customers in TN and AL. If you need us to take a look at your project, just give A-Z Roofing & Contracting a call at (256) 828-2882