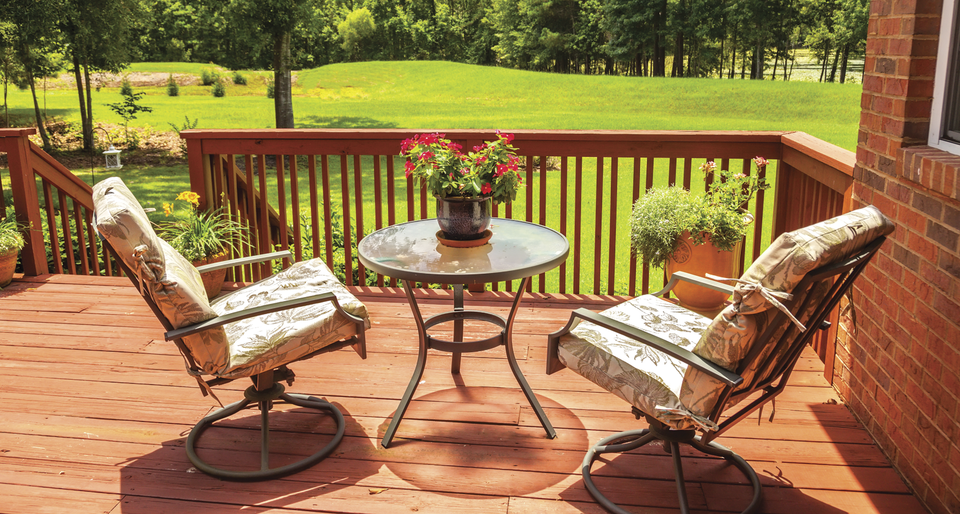 Patios & Decks
Many homeowners today see outdoor living space as a must-have amenity, as a well-planned deck or patio can add a lot of enjoyment to their home. But the wrong deck or patio can become unused dead space. In the end, a dream of relaxation can become a negative experience and can produce new stress for the homeowner.

Sometimes, local building codes or the terrain of the site dictates whether you build a deck or patio for your clients. In addition to code and topography consideration, builders often must assist clients in deciding if a deck or patio is what they want and need. In those cases, builders need to know how their clients plan to use the new space.
A-Z Roofing & Contracting can certain factors can help determine
if a deck is more suitable than a patio:
Capacity: How much weight will the deck need to hold? A deck can be beefed up to hold a huge spa but might sacrifice the aesthetic the homeowner wants.

Climate: Will the deck become too hot to walk on? Will snow and rain runoff create a problem on a solid patio surface?

Site: Rough, sloping terrain almost always dictates a deck. Is a homeowner willing to pay for the extra excavation to provide a patio surface? Beyond building codes, terrain and engineering issues, there are issues with each individual material of which clients should be made aware.

Composite and vinyl decking: These materials require less maintenance than wood and are more resistant to insects, warping, and splintering. Although many of these materials don't shrink or swell, some can swell in hot and sunny climates. This can be much more expensive than wood, especially if coordinating railing and balustrade systems are used.

Wood decking: The low cost, availability and rot resistance makes pressure-treated pine and fir popular decking choices. Even with the periodic maintenance that is absolutely necessary, though, warping, twisting, shrinking and swelling will still occur. Other species such as red cedar, redwood, and tropical hardwoods are more durable and have no chemical treatments, but maintenance is still required and those options can be pricey.

Pavers: Brick, stone and concrete pavers are available in a range of styles and colors and are extremely durable. Very little maintenance is required from the homeowner, but builders should convey that significant site preparation may be needed to ensure proper placement, grade, and drainage.

Concrete: No longer just a drab gray slab, concrete is available in a wide variety of colors and patterns. Designs are nearly limitless. A periodic resealing may be required, but otherwise, an occasional pressure wash is the only maintenance required. 
Decks
Decks have always been a great way to get your family outside. If you have been contemplating putting a deck in, we can answer all of your deck construction questions! We do decking the right way, whether you want wood or composite decking! If you want a quote, just give us a call or contact us via our site.  We have expert estimators to look at the project you have and save you the money where they can without sacrificing quality.
Are you looking to get the most enjoyment in and out of your home or are you more interested in increasing its resale value? Either way, converting your outdoor spaces into functional and beautiful recreation areas is one of the most cost-effective and rewarding ways to invest in your home. The STARS help you determine the cost: 
Composite Decking - Built to last, composite decking combines clean lines with outstanding durability for years of outdoor enjoyment with the lowest possible maintenance. - 4STARS
 
Redwood Decking - The defacto standard for decks before composite materials, redwood still provides outstanding beauty and durability. Becoming more and more rare. - 3STARS
 
Cedar Decking - Rustic and naturally water-resistant, cedar decks wear faster than composite and redwood decks but are valued for their Southwest rustic beauty. - 2STARS
 
Treated Lumber Decking - Build more on a budget with treated lumber. Readily available and can be stained and sealed for longer life. - 1STAR
Patios
We do all styles of patio covers- open aluminum patio covers, open wood patio covers, solid surface patio covers, custom wood cutouts, awnings and lattice configurations that will have you saying "WOW!" Let us come over and show you what WE can do to provide patio shade with style! Don't forget we professionally install custom awnings too.

Planning a patio deck can be an exciting time.  The thought of good times and entertaining good friends is certain to make your backyard a popular hangout. Whether it's a birthday party, 4th of July celebration, or just a family get-together, patio decks provide the best place to entertain in the outdoors.

Patio decks can be constructed with built-in benches, tables, bars, and/or shade arbors. Your patio deck could also be designed with an outdoor kitchen, deck lighting, and a built-in barbecue pit... setting the stage for the ultimate outdoor living experience. Don't wait any longer to begin your patio deck project and start living it up, outdoors.

Because here at A-Z Roofing & Contracting, LLC, we specialize in exterior home improvements, deck and patio projects are an essential part of our business. Thus, we provide a full range of deck and patio services to customers in TN and AL. If you need us to take a look at your deck or patio, just give A-Z Roofing & Contracting a call at (256) 828-2882