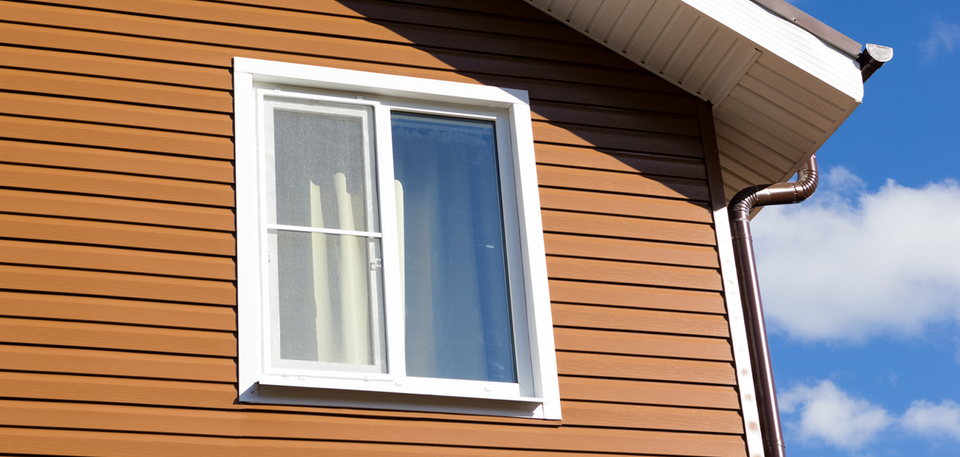 Vinyl & Hardie Board Siding
Designing for your siding project involves making sure the entire system is up to code and performing well. Install insulation board or house wrap if that is required (or recommended) in your region. Adding insulation and a moisture barrier can reduce heating and cooling costs in your home, often making it well worth the added cost and effort of putting them in during your siding project.

There may be quite a few decisions in the design stage in a siding project. Type, style and of course, color of your siding are important choices. Matching or complimenting the existing siding is a major issue in additions and even siding repairs require quite a bit of forethought and information. Do a thorough job on this prep work and look forward to a fresh new look for the exterior of your home.
Vinyl Siding
Vinyl siding is the number one choice for exterior cladding and it carries the lowest total installation cost, as well as, the lowest maintenance cost of any exterior cladding. with hundreds of colors to choose from, you can quickly and cost-effectively change the exterior look of your home.

Strong, durable, and fade resistant; today's vinyl siding is not the vinyl siding of just a few years ago. Stronger than ever. More beautiful than ever. Vinyl siding is the most popular choice among homeowners.

Since your vinyl siding is going to last for years, shouldn't you choose A-Z Roofing & Contracting, who has been in business for years?
Energy Efficient Siding
Siding over time can develop leaks, warp, crack or dent, all of which can affect the integrity of your home. Modern technology has enhanced the quality of siding. Insulated vinyl is energy efficient thus reducing your energy costs and protecting your home from mother nature's elements. An additional benefit of insulated vinyl siding is that it is impact-resistant resisting strikes from objects that would crack traditional siding. A Delaware siding contractor from A. Parker Contracting can help save your money month after month by installing energy-efficient siding.

I am sure you have many questions about quality, colors, time to install, and cost. Please call me and we'll set up a time to sit down and answer all your questions without any pressure to buy.

Call me today to answer all your siding installation questions: (256) 828-288
Hardie Board Siding
James Hardie Fiber Cement Siding
 is composed of sand, water, cellulose wood fiber, and cement. All natural, non-toxic, renewable materials that make for a highly durable alternative to vinyl and wood siding products. Hardie board siding has been growing in popularity due to it's natural resistance to rot, mold and fire ratings.  Hardie board siding has been giving the relief many are looking for, low-maintenance and long-lasting, but does it measure up to its reputation? Or, is this just pure "Grade-A marketing" as usual?
James Hardie fiber cement siding is designed to last for up to 50 years against cracking, rotting, hail damage, termites and many other possible problems. All HardiPlank siding styles are engineered for several climate conditions to better withstand a home's particular weather challenges. Each style is backed by a manufacturer's 30-year non-prorated, transferable, limited warranty.
Replacing the siding on your home is not a simple process. It typically involves the complete removal of the existing cladding (siding or stucco), the installation of a moisture barrier and reflashing of all windows and doors before the new siding is installed. There are also some specific handling and installation techniques and tools required that are unique to fiber cement siding. For all these reasons, a siding project is typically not a do-it-yourself type of project – it should be reserved for contractors that are experienced in these techniques utilizing the proper tools.
Fiber Cement Siding has become a popular choice for homeowners in the last several years.  Composed of Portland cement, sand, and sawdust it is very durable and virtually impervious to insects, not to mention non-combustible.  Fiber cement is available as lap siding, vertical siding and as shakes.  Fiber cement is designed to last a lifetime, resisting cracking, rotting, and hail damage.
Hardie Board Siding: The Pros
• Longevity — When it comes to exterior hardy plank siding, James Hardie Industries offers one of the best warranties on the market, a 50-year limited transferable warranty. When a company offers a huge warranty like that, it's hard to say no to their siding options. So how can they offer a big warranty? It's simple really, Hardie plank siding is completely rot and insect resistant, and can even withstand the corrosive salt spray near the coastlines.

• Appearance— Another great quality of Hardie board siding is that it can be made to look like any type of wood house siding out on the market. You can have the look of cedar shingle siding, clapboard siding, etc.. The siding color options are unlimited to your tastes and these colors are usually warrantied to up to 15 years on the finish.

• Fire Resistance— James Hardie Building Products, states that fiber cement siding "is comprised of more than 90% sand and cement, making it inherently resistant to flames." Watch this video below to see how well Hardie panel siding compares to vinyl siding and wood house siding — I'll let you decide the rest!
Hardie Board Siding: The Cons
So what's not to like about this type of house siding? Well, as a siding contractor and installer, I'll tell you that a couple things come to mind due to experience in installing Hardie board siding. First,  Hardie plank siding installation is much more labor intensive because of its weight when compared to other types of siding. Second, nothing is maintenance-free! Hardie panel siding does require painting every 10-15 years.

• High Installation and Labor Costs— Due to its composition, fiber cement siding requires more time to install and resources required for proper installation. When compared to vinyl siding cost, fiber cement siding out weights its comparison by three times.

• Maintenance— Just because Hardi board siding comes backed by a 50- year warranty, doesn't mean it will look the same as it did the day you installed it. The baked on finishes sold by most lumber yards are only guaranteed for 15 years. Please note, the siding will most likely outlive you, but it does require a paint job every 10-15 years – that's better than wood siding, every 7-10 years.

With all of this in mind, all siding keeps your home warm in the winter and your utility bills cheap in the summer. Siding turns the heads of people passing by your home and bolsters your curb appeal to the admiration and envy of neighbors. Only your roof can lay claim to this level of multi-faceted importance that naturally translates into a huge impact on your home's value. Given this financial impact, professional and affordable siding contractors are one of the greatest resources you can find for your home.

Of course, A-Z Roofing & Contracting can advise you on a wide variety of materials. We offer comprehensive siding services while including free color and design consultations, and focusing on cost-effective installation services.

Call me today to answer all your siding installation questions: (256) 828-2882