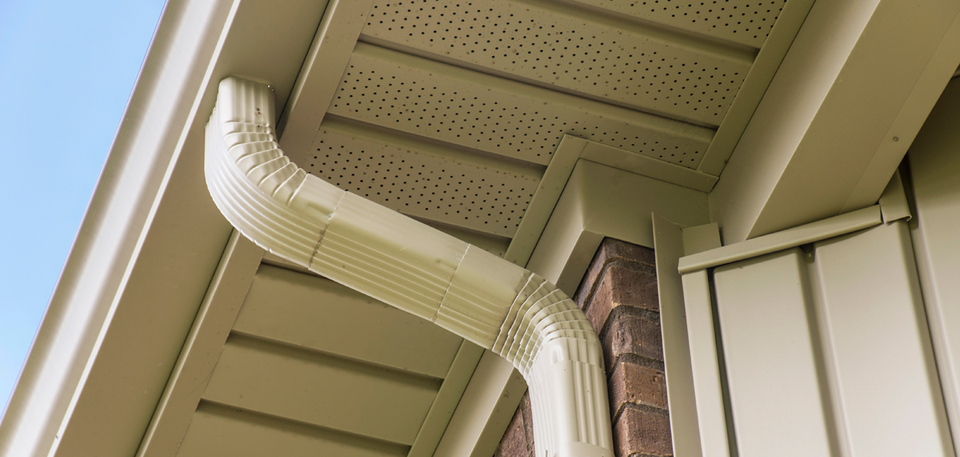 Few people realize it, but gutters play quite an essential role for many houses. Yes, they do collect water from the roof so it does not drip all around the house. However, more importantly, gutters channel that water away from the house. Many wet basement problems can be solved simply by installing new gutters. And when wet basements have been eliminated, mold problems, musty odors and alike usually disappear with them. Basement waterproofing can be quite expensive. So before one does it, we usually recommend to give gutters a shot, because chances are, one will not be disappointed.
Gutters keep the water that falls on your roof from collecting near your foundation. If your gutters are leaking, it is usually a sign that seams have come loose or that a section of gutter has become corroded. Leaky gutters can be patched or repaired. Not only do gutters help direct water from the foundation (if installed correctly), they are also important for routing water away from walkways, where ice can build up and cause damage or create injury risk.
Installing gutters properly is usually enough to solve many problems. Even simple gutter repairs are often quite successful in resolving particular issues. However, all gutters should be maintained – cleaned regularly, unless of course, you have the lifetime guaranteed clog-free gutter guards.
Because here at A-Z Roofing & Contracting, LLC, we specialize in exterior home improvements, gutter projects are an essential part of our business. Thus, we provide a full range of gutter services to customers in TN and AL: 
New Seamless Gutter Installation
 
Gutter Cleaning
 
Gutter Repairs
 
Gutter Guards Installations
Keep Your Gutter Clean With Gutter Guards
However, in order for them to provide effective roof water drainage, they need to be kept clean of debris that can cause clogging. This is where gutter guard systems come in. It is worth asking yourself why you should install such as system and what benefits it can bring to you.

The gutter guard systems protect the channels draining the rainwater from getting clogged. This has one major distinct benefit. The water from the roof will be effectively drained. It will have a high flow rate which means that it will not be retained on the shingles.
As a result, the moisture will not infiltrate the roof and damage it. You will not have to worry about dealing with a leaking roof ever again. Furthermore, the water will not leak in between the walls and the siding of the house.

If you need us to take a look at your gutters, just give A-Z Roofing & Contracting a call at: (256) 828-2882
We will be careful around your plants and treat your property with respect. Our typical gutter installation takes less than a day, and when we are done it looks great! Seamless gutters are available in variety of colors and can be matched to your trim perfectly.
So, will you go with classic white, or choose something contemporary? Will you add gutter guards for a maintenance free gutter experience? Or maybe it will be just simple gutter repair or gutter cleaning project? There are various advantages of hiring professional roofers. The best thing about them is the fact that they have the adequate knowledge regarding the subject. They will therefore be able to provide you with the right guidance and suggest the right materials which can prove beneficial for your home.

No matter what it is – we are your Gutters Contractor in Alabama and Tennessee. We will treat you right. Whether it is simple gutter cleaning or a full blown project, A-Z Roofing & Contracting will take care of your every gutter and guard need. (256) 828-2882